Secure & bank-independent: Individual safekeeping of your precious metals in our high security warehouse
Store your bars and coins carefree and fully insured at highly attractive conditions! Your precious metals are kept strictly separate from the assets of other customers at all times within the framework of the so-called "allocated storage" principle. Even we as the provider of this storage concept have no access to your precious metals during the contract period!
The most important advantages of the high security storage at a glance: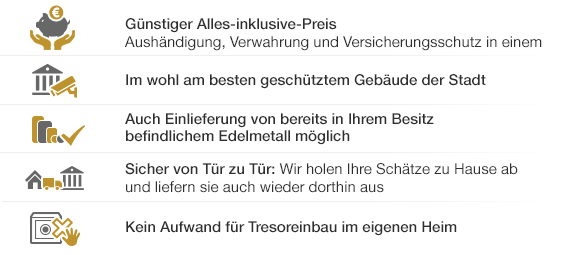 The value warehouse - Located in the heart of Germany with "home service"
Would you like to know that your precious metal bars and coins are in safe hands? Then the secure storage facility is the ideal solution: independent of banks, secure and always fully insured against theft, robbery and fire. If you already own silver that should be stored safely and securely in the future, you can arrange for it to be picked up at your home. If you place a new order with us in our store, you can have the ordered bars and coins stored directly. This saves you the costly installation of a safe and avoids the risk of theft in your  own four walls.
You decide how long you want your treasures to be stored in our high security warehouse. If you would like to have them handed over, you can have them delivered to you on weekdays on site (a total of 15 locations in Germany) or have them sent to you fully insured.
Your precious metals stored in probably the most secure building in town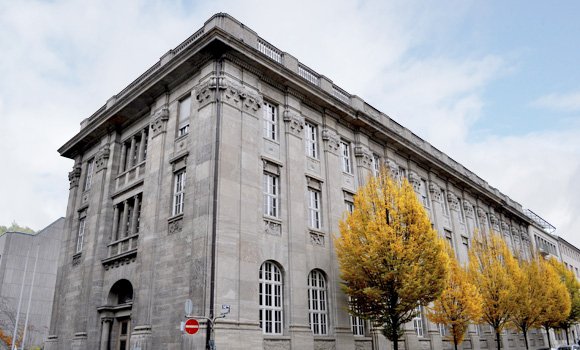 Speaking of high-security storage: our secure storage facility is located in what is probably the most secure building in Mannheim, in the former Reichsbank and Bundesbank building in the city center. The unique high-security building draws on excellent structures: created by the Reichsbank and later expanded by the Bundesbank with large financial resources, high-tech and an outstanding security concept guarantee optimal value protection.
Our nationwide leading value logistics company has perfected this concept even further: Your treasures are in good hands behind 280 square meters of bulletproof glass, 4 tons of steel for armoring the window frames, and surrounded by 80 infrared detectors and 120 structure-borne sound detectors.
Even if you do not live near Mannheim, this is not a problem. As an alternative to collection in Mannheim, you can also pick up your treasures at 14 other locations in Germany or have them delivered directly to your home.
The Wertelager adapts to your storage needs - at fair conditions
The amount of the ongoing storage fees is always based on the current market value of the respective precious metal and the quantity stored. This ensures that you never pay more than necessary - by the way, the storage fees already include the insurance premium for protection against theft, loss and destruction.
Request further information on the valuables warehouse now
We will be happy to send you further information including a rental agreement. Please use the contact form below to send us an inquiry: