Sales support / material ordering
Material ordering and sales support for the GoldSilberShop.de
Content
Ordering materials: Valuable support for your sales success
You need sales supporting materials? We will be happy to send them to you.
You can order all material about the SOLIT Group here . Alternatively, you can download most of the documents as PDF files here. You can fill them out directly via your PC.
If you are more interested in GoldSilberShop.de related advertising material such as posters, consultant cassettes etc., you can order them here. 
Focus Money special print: "Excellent

Special print with the test report of Focus Money 05/2019 in which the SOLIT Group was awarded as "Excellent".
Documents for the SOLIT Precious Metal Depot

For the mediation of the SOLIT precious metal depot, we ask you to contact us at   to make a separate mediation agreement. We offer the following documents for download:
Brochure on the SOLIT Precious Metal Depot (also as printed version)
Flyer on the SOLIT Precious Metal Depot (also as printed version)
Children's flyer on the SOLIT Precious Metal Depot (also as printed version)
Editable application for opening a securities account (also as printed version)
Editable application for opening a securities account - R (also as printed version)
Terms and conditions (also as printed version)
Post-Ident form 
FAQ 
SOLIT Group is gold savings plan test winner at Focus Money (06/2016 )
SOLIT Group is again gold savings plan test winner at Focus Money (06/2017)
Investment report: Certificate of the Trusted Asset Society for the SOLIT Group (also as printed version)
CHECK-Analysis: SOLIT Precious Metal Depot
Printed versions can be requested using the  material order form .
Become a sales partner
As an investment advisor / broker, financial distributor, bank or financial service provider, you have the opportunity to become a cooperation partner and thus provide your customers with precious metals - we guarantee a safe and reliable processing for you! Here you can find all information about becoming asales partner.
Brochure"Diamonds as an investment
We also provide a brochure "Diamonds - A capital investment with 900 years of history" for brokering diamonds:
Neutral version for intermediaries: Brochure "Diamonds as an investment"
General version: Brochure "Diamonds as a capital investment
or order online here 
Precious metal buying guide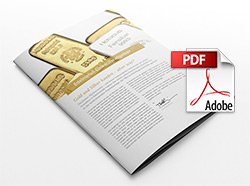 We have completely revised the "Precious Metals Purchasing Guide". Instead of the former PDF guides, we have developed an interactive solution to support interested parties in their investment decision. This way to our interactive investment advisor.
Sales poster
The GoldSilberShop.de sales poster "Hereinspaziert" can be foundhere . The "Focus Money" sales poster is available here .
The sales posters can also be ordered free of charge in printed form via the order form. 

Order the sales poster here.
The advisor cassette - everything at a glance: 
The advisor cassette offers both the advisor and the customer a direct view into the topic of precious metals. The cassette contains reproduced sample bars and coins in original size and can be touched without any problems .   Thebox is made of high quality material and is ideal as a noble advertising material. The consultant's box itself is made of mahogany-colored wood with a gold-plated hinge. The inside lid cushion is made of white satin. The inlay is made of black velour. The dimensions of the advisor box are 27cm x 23cm x 4cm (length / width / height).
The following reproduced  gold bars and coins are included in the contents of the cassette:

You can order the advisor cassette here.
The floating frame - gold and silver coins float in the designer frame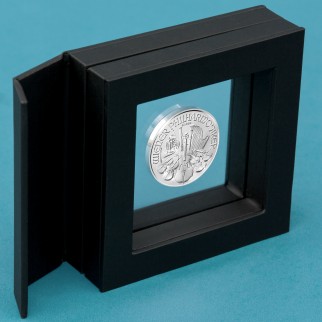 In the center of the elegant looking floating frame, the gold or silver coin placed inside seems to float: Two almost invisible silicone membranes hold the coin.
Display your most beautiful coins in style. With the floating frame you have the possibility to present your coins elegantly - for example in a showcase or the living room cabinet.
The modern designed hover frame is also an ideal gift packaging, as it shows off your gift to its best advantage. Since the coin directly catches the eye, the recipient will be amazed immediately upon opening your precious gift.
Protected from dust and elegant as well as easy to handle. With a magnetic clip closure, the frame can be completely opened and closed within seconds. This allows the exhibit to be removed and replaced at any time: Place the coin on one of the two transparent membranes, close the frame - done.
Since the exhibit is firmly encased by both silicone membranes, it remains securely in place. The floating frame closes perfectly and thus reliably protects the exhibit from dust.
You can order the floating frame incl. the 1 ounce silver Maple Leaf here. 
You can find more information about the floating framehere .
Advertising material for your website
To address the sales of precious metal products, the integration of widgets and advertising banners in the GoldSilberShop.de partner program is a good idea.
GoldSilberShop.de offers over 70 widgets on various gold and  silver bars and  coins .
Each product has a widget that you can easily embed into your site using HTML code. The widget contains a picture and name of the respective product as well as the current gold or silver coins, silver bars) incl. current price in a list unite.
The following advantages result from the widgets:
Always current prices
Integration directly into the content of the website possible, therefore high CTRs to be expected
Attention-grabbing
Fast and free integration
Modern appearance
You can find these and many other advertising materials in the partner program under Advertising --> Banners and Links.
Price lists for the website for offline sales
In addition to the above price lists that link to GoldSilberShop.de, we also offer price lists that do not link to the store. Their purpose is to allow you to publish current prices on your website, but the customer must contact you to place an order. An additional commission of 1 to 5% is priced into the prices  
These price lists are available for gold bars, silver bars, gold coins and silver coins. All you have to do is copy a short source code into your website. You can also find the required HTML codes in your  affiliate program login under the offered advertising materials.
Free charts for gold, silver and gold-silver ratio for your website with your logo

To enhance the content of your website with always the current gold or silver price, we offer you free charts for integration - if desired also with your company logo in the background:
Free gold charts for your website
Free silver charts for your website
You can also integrate charts on the gold-silver ratio into your website free of charge in unchanged form or with a logo. You can find them here.