Recommended equipment for precious metals authenticity testing
By popular request, we would like to give you an overview of which devices we can recommend, based on our experience, for the authentication of precious metals.
In our video on authenticity testing, we use neodymium magnetic beads to show that this method can also be used to detect gold bars and coins filled with tungsten. However, it is not recommended as the sole testing method due to possible inaccuracies.
If you are still interested in these magnets, you can order them from Amazon:
Precision scales: a must for testing the authenticity of precious metals
Your basic equipment, which can be purchased for comparatively little money, should include a precision balance that also displays the weight accurately to two decimal places in the gram range.
Entry-level models are available for just over ten euros. Also make sure what maximum weight you want to measure with the precision scale and that the scale can ultimately measure this. Precision scales that can weigh more than 500g are usually only accurate to 0.05 grams. However, this is usually sufficient:
Caliper also belongs to the basic equipment
In addition to a precision scale, a caliper gauge should also be part of your basic equipment. This is also available for a few euros:
With the two aforementioned devices, you can compare the target dimensions and weights with the actual values. For almost all bars and coins we give these on the corresponding product pages.
In order to determine the material composition of the bar / coin, you can - provided you have experience in handling - examine the surface using test acid, but you will not discover a tungsten core or similar.
Professional devices for authentication cheaper than expected
The purchase of professional instruments for authenticity testing is less expensive than we initially thought. From a low four-digit investment, you too can be professionally equipped with authentication devices. An investment that has already more than paid for itself from the detection of a counterfeit 100 gram gold bar.
Electromagnetic testing
In our day-to-day business, we usually use the electromagnetic testing device shown below to check for authenticity. With this testing method, the coin/bar is placed on the device and within a second it can already be read on the screen whether it is a counterfeit:
The Goldscreenbox from Goldanalytix has proven itself as an inexpensive entry-level device for approximately 1,200 euros: It provides reliable test results for bars and coins up to a fine weight of approximately 100 grams.
For larger specimens, we recommend the devices from Aurotest, which are about twice as expensive: The ATS 400/LFK device shown below has three different-sized test heads that can be selected depending on the thickness of the test specimen:



Details of Goldanalytix's Goldscreenbox
We ourselves mostly use the Aurotest ATS 450/LFK. In addition to the three different sized test heads, this device offers the special feature that bars and coins can be "inserted" into the device, as can be seen below, so that they are "screened" from both sides - this makes the device also recommendable for thicker test specimens.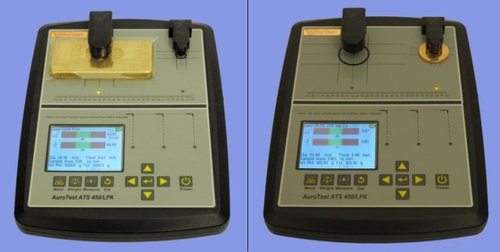 Differential weight determination using magnetic scales
Somewhat more complex, but no less precise, is the use of a magnetic balance to determine the differential weight of the test specimen. The magnetic balance is always used when a thicker ingot is involved:
We purchased both devices from AuroTest, a company specializing in precious metals testing.
In addition to the two devices presented, the company has numerous other devices in its product range, some of which enable authenticity testing in different ways.
In addition to selling the testing equipment , the company also offers individual and group training.
Would you like to receive more detailed information on methods as well as on the handling and purchase of testing devices for precious metal authenticity testing? Please fill out the contact form below. We will forward your request to AuroTest. AuroTest will then contact you as soon as possible. 

Request a quote and information from AuroTest now