GoldSilberShop.com: Your multiple award-winning precious metal dealer
With the aim of offering investors a unique range of services related to the purchase and sale of precious metals, GoldSilberShop.de GmbH was founded in 2012, which was finally merged with SOLIT Management GmbH at the end of August 2018. The result: SOLIT Management GmbH, to which GoldSilberShop.de now belongs as a brand.
In addition to excellent and already excellent buying and selling prices for all common bars and coins, we also offer
an.
Experiences, evaluations and test reports to GoldSilberShop.de
Independent test reports in well-known trade magazines, such as FOCUS MONEY and Euro am Sonntag, confirm the attractiveness of our offers:

In 2022, GoldSilberShop.de was able to successfully defend numerous test wins from previous years in Focus Money's precious metal dealer test. In addition, the award as "Best Precious Metal Dealer" was won for the first time.  
In March 2021 GoldSilberShop.de was the test winner in a study in which the service quality of 10 well-known online dealers for precious metals was tested. As the only candidate GoldSilberShop.de could reach the top mark "very good". You can find more information here. 
We could win the title "Best Gold Dealer" for 2020 again for us. For the fifth time we have now been awarded by Focus Money. In February 2019, we were awarded the rating "Outstanding" for high customer loyalty for the first time: The basis for this award is a broad-based survey by DEUTSCHLAND TEST. Around 1,900 providers from 199 sectors were put to the test. Chip and market analysis specialist Globis Consulting awarded us the "Leading Shops 2019" seal in March. Among 10,000 online retailers, we delivered convincing results in the areas of transparency, security, user-friendliness, product information and conditions.
In 2018, we were awarded the top grade "very good" by Euro am Sonntag for the third time in a row, but that's not all - we became Precious Metals Retailer of the Year 2018. In 2020, we also shine repeatedly with the top grade "very good". We were very pleased to be awarded "Best Gold Dealer"  for the fourth time as well as "Best Silver Dealer", "Best Platinum Dealer" and "Best Palladium Dealer" according to Focus Money . In May 2018, we were named outstanding in the Handelsblatt ranking "GERMANY'S BEST ONLINE DEALERS" in the "Precious Metals" sector. 
In January 2017 we were also awarded by Focus Money as "Best Gold Dealer" and by Platinum Coins . In the course of the year, Focus Money followed up with awards for "Best Silver Dealer", "Best Platinum Dealer" and "Best Palladium Dealer". In October 2017, Euro am Sonntag again awarded us the top rating of "Very Good". We are particularly pleased with the first place in the category "Conditions", for which we were praised: "On the other hand, the provider GoldSilberShop.de offers the best conditions. It can score with particularly fair prices in both buying and selling."
In August 2016, we were awarded "Best Precious Metals Dealer" by Sachwert Magazine and "Best Diamond Dealer" by Focus Money - as the only provider with "excellent" buying and selling conditions. In October 2016, we were pleased to receive an overall rating of "Very Good" in the major precious metal dealer test by Euro am Sonntag. Following the award as "Best Gold Dealer" with the sub-ratings "Best Gold Bar Dealer", "Best Gold Coin Dealer", "Best Gold Purchaser", "Top Service" and "Top Storage" as well as the rating "Best Gold Savings Plan" for the gold and silver savings plan we offer, this was the third test victory in 2016.
In 2015, we received the grade "very good" for security and transparency in the precious metal dealer test by Euro am Sonntag. In the following spring 2016 we were nominated for the grand prize of medium-sized businesses of the Oskar Patzelt Foundation and awarded by Goldbarren-Wiki.de as "Precious Metals Dealer of the Year 2015".
Precious metals at GoldSilberShop.de buy - 100% safe!
Security is very important to us - from the order to your home.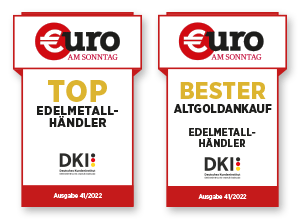 October 2022: Two awards from €uro am Sonntag
 Together with the German Customer Institute (DKI), €uro am Sonntag has determined Germany's best precious metal dealer. GoldSilberShop.de  was able to achieve top rankings in the four categories "Conditions", "Trade", "Security" and "Customer Service" and received the         seal "Top Precious Metal Dealer" for this. Also in the additional category old gold purchase GoldSilberShop.de could convince and received for it the seal best old gold purchase. 
You see the complete test report here: Testbericht-Euro-am-Sonntag-2022.pdf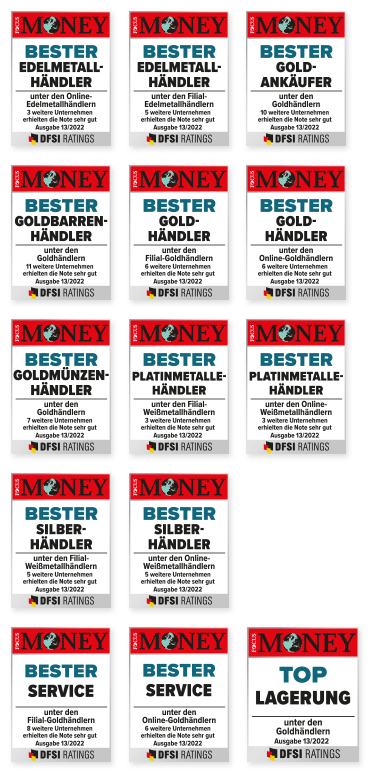 In the year 2022 GoldSilberShop.de received in the Focus Money precious metal dealer test whole 14 times the mark "very well", under it also for the first time the honor as "best precious metal dealer"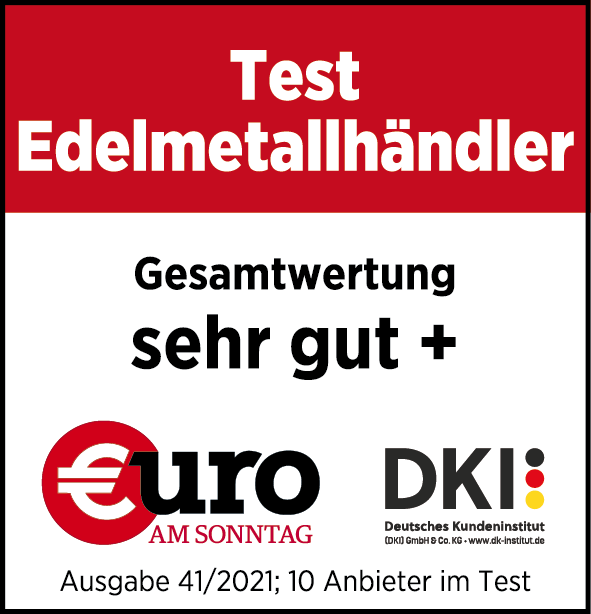 October 2021:  "Very good +" according to Euro am Sonntag
In 2021, Euro am Sonntag's precious metal dealer test introduced a new rating system and awarded the grade "very good+" for the first time. With this, the study authors wanted to create a better differentiation in the top places and honor extraordinary performance. As one of two offerers GoldSilberShop.de received this new Bestnote.  
March 2021: GoldSilberShop.de has the best service quality
"GoldSilberShop.de offers altogether the best service. The web page supplies extensive and understandable information as well as helpful Tools, like the announcement of the current gold rate or a price overview.Besides Goldsilbershop.de offers in the comparison the best service by E-Mail - the need-oriented information leads to a simple solution of the request.In addition, the test winner scores with a very good offer and comparatively attractive prices, which are below the industry average for all products examined."
 17.09.2018: How do I buy cheap gold bars and gold coins? 
The best reputation (overall grade "very good", market researcher DKI/€uro am Sonntag) is currently held by Degussa Goldhandel and GoldSilberShop.de among the providers with many retail outlets and advice.

In 2015, we received the grade "very good" for security and transparency in the precious metal dealer test by Euro am Sonntag.
Here you can find out why GoldSilberShop.de also shines in terms of security.
Our customers also rate us "very good". Every customer is asked by Trusted Shops to rate us after his order. Convince yourself of our customer ratings.
The company and its employees
GoldSilberShop.de belongs as a brand to SOLIT Management GmbH since August 2018. The specialization of SOLIT Management GmbH lies in the design and distribution of crisis-resistant tangible assets and specializes in trading physical precious metals. It offers the purchase and storage of a wide range of common bullion coins and bars at attractive prices. The range of services includes trading in gold, palladium as well as storage solutions at international locations as part of the SOLIT Wertelager concept.
The team of GoldSilberShop.de consists at present of ten persons. From left to right these are:
Markus Blaschzok (chief analyst), Michael Seidelmann (customer service), Luigi Craca (customer service), Antje number (selling partner support), Dieter Wiedenmann (customer service), Tim Schieferstein (managing director), Bianca Püschel (customer service), Walter Termer (director customer service), Frank Lukat (camp administration & trade), Mathias Kurek (customer service & deputy branch manager Mainz).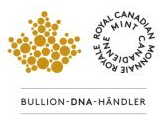 Furthermore we are an official Bullion DNA dealer of the Royal Canadian Mint.
Visit us in our R(h)eingoldboutique in Mainz
We would like to invite you to visit our store at the foot of the Theodor-Heuss-Bridge, which connects Wiesbaden and Mainz. You can expect a unique range of services around the purchase and sale of precious metals in the heart of Mainz: 
Brilliant selection: More than 500 gold bars and coins and over 200 palladium bars and coins  in the range.
Valuable gift ideas: Precious gold and silver pieces as wedding, christening, birthday or anniversary presents.
Always fair and market-driven prices: Updated for you every 5 minutes.
Low trading margin: High purchase prices ensure minimal differences between purchase and sales prices.
Direct table business: Up to a cash amount of 2,000 euros anonymous cash payment possible within the framework of the legal regulations.
Expert and trustworthy advice: Many years of experience and a strong passion not only for gold characterize our precious metal experts.
Safe and discreet loading into your car*: Thanks to view-protected garage with direct access to the store.
Free valuation and authenticity testing: Immediately carried out with state-of-the-art measuring equipment and non-destructive testing methods.
Bank-independent storage: Insured and bank-independent safekeeping of precious metals in high-security vaults in Frankfurt, Zurich or Halifax.
Gold and silver savings plan: For long-term asset accumulation from as little as 50 euros per month, also as a retirement provision.
Central and convenient location: Situated directly at the Theodor-Heuss-Bridge, easy to reach from all over the Rhine-Main area with parking spaces directly in front of the shop window.
* Please note maximum clearance height of 2 m and 5.5 t maximum weight.
More information about our store in Mainz.
Member of the largest European coin dealer association

We are a proud member of the Bundesverband des deutschen Münzfachhandels e.V.. With over 200 members, this is the largest European association of domestic and foreign companies active in the German coin market.

All members have common declared obligations. Among them is to guarantee the authenticity of all coins sold. To notify the association immediately of any counterfeits that are discovered, their characteristics and accompanying circumstances, in order to prevent the spread of counterfeits and to identify the counterfeiters. In addition, we have undertaken that we will conduct ourselves in a morally and commercially sound manner. As a precious metal dealer who carries the association's signet, you will always receive comprehensive and trustworthy advice from us as a customer.
Your advantages at a glance
Always attractive buying and selling prices
Extensive assortment of bars and coins
Professional competence for precious metals as well as diamonds
Unique range of products and services
Multiple awards from the trade press
"Very good" rating from our customers
Secure ordering process and delivery
Nationwide network of bullion trading outlets
Your next steps
Interactive buying guide recommends specific gold investments for you
Gold bars or coins - what you should buy and why