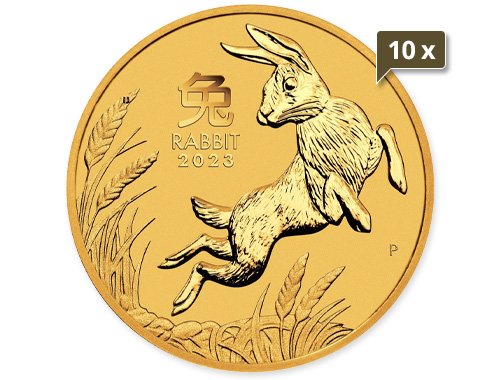 Bundle articlelist:
10x

1 Unze Gold Lunar III Hase 2023
This Investment Bundle contains:
Die insgesamt zwölfteilige Reihe erscheint mit einem jährlich wechselnden Motiv der chinesischen...
more
Product information "10 x 1 Unze Gold Lunar III Hase 2023"
Die insgesamt zwölfteilige Reihe erscheint mit einem jährlich wechselnden Motiv der chinesischen Tierkreiszeichen. 2023 wird auf der Motivseite der vierten Ausgabe der Lunar III-Münzserie ein Hase abgebildet. In China steht der Hase für Diplomatie und Klugheit. Daher ist sie in China ein äußerst angesehenes Lebewesen. 
Spezifikation der 1 Unze Lunar III Goldmünze 2023 Hase
Die Goldmünze mit einer Feinheit von 999,9 / 1.000 hat ein Gewicht von 31,11 g, der Durchmesser liegt bei 32,6 mm und die Dicke der Münze misst 2,80 mm. Der Münzrand ist geriffelt und der Nennwert beträgt 100 AUD (Australische Dollar).
Motivseite und Wertseite der 1 oz Hase 2023 Lunar III
Motivseite:
Die Motivseite bildet einen Hasen ab, der sich gerade in einem Sprung befindet. Die Szene erweckt den Eindruck, als würde er gerade aufgeschreckt worden sein.
Wie auch auf den Serien Lunar I und Lunar II ist das chinesische Schriftzeichen für den Hasen zu sehen. Darunter steht "Rabbit 2023". Der kleine Prägebuchstabe "P" steht für die Prägestätte "Perth Mint".
Wertseite:
Die Wertseite zeigt das Portrait der britischen Königin Elizabeth II. nach einem Design der Künstlerin Jody Clark. Die umlaufende Beschriftung besteht aus den Worten "ELIZABETH II AUSTRALIA", dem Feingewicht und dem Feingehalt "1oz 9999 Au" und dem Nennwert der Münze "100 DOLLARS".

Verpackung der Lunar 3 Hase 2023 1 Unze Gold
Einzeln verpackt erhalten Sie Goldmünze in der originalen Münzkapsel der Perth Mint, welche die Münze optimal vor Kratzern, Schmutz und anderen Beschädigungen schützt. Bei einer größeren Bestellmenge erhalten Sie je 20 Münzen in Folie verschweißt oder je 100 Münzen in einer orginialen Masterbox der Perth Mint. 
So können Sie uns die Goldmünze Lunar Hase III 2023 1 oz verkaufen
Sollten Sie uns Ihre Goldmünzen verkaufen  wollen, legen Sie die entsprechenden Artikel ganz einfach in der gewünschten Stückzahl über den Verkaufen-Button in den Ankaufskorb und schließen Sie Ihren Verkauf ab. Anschließend erhalten Sie eine Bestätigung und alle weiteren Informationen zu Versand und Auszahlung.Der angegebene Ankaufspreis gilt nur für neuwertige, original verpackte Artikel in handelsfähigem Zustand. Andernfalls kaufen wir die Artikel als Altgold an. Das gilt ebenso für Produkte, die wir nicht im Sortiment haben. 
Further links to "10 x 1 Unze Gold Lunar III Hase 2023"
| | |
| --- | --- |
| Artikelnummer: | BD-AU-M-LH-001-10 |
| Metal: | Gold |
| Manufacturer: | Perth Mint |
| Country of origin: | Australia |
| Vintage: | 2023 |
| Series: | Lunar Series III |
| State: | as new or mint |
| Gross weight: | 31,11 g |
| Fine weight: | 1 oz (31.10 g) |
| Fineness: | 999,9 / 1.000 |
| Nominal value: | 100 Australian dollars |
| Diameter: | 32,60 mm |
| Single packing: | Coin capsule |
| Quantity packaging: | 20 pieces each in foil, 100 pieces each in original cardboard coin box of the Perth Mint |
| Special occasion: | Easter |
| Special price: | Yes |
60 % sold!
1 Unze Gold Lunar III Hase 2023
Content
31,1000 Gramm
(

€62.22

* / 1 Gramm)

In stock! Immediately available!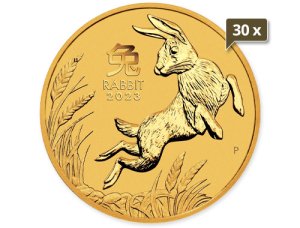 57 % sold!
Bundle

30 x 1 Unze Gold Lunar III Hase 2023

Fast delivery: Delivery time only about 1 to 3 Working days after receipt of money