Current platinum price in Euro and US-$: Everything important about the current platinum price
Why you should look at the current platinum price
The platinum price per gram to be taken.
Summary 
Why the platinum price was historically low
From today's point of view, it seems quite curious that the platinum price was historically extremely low: In earlier times, platinum was even considered a worthless waste, as it only complicated the search for gold and could not be used in jewelry making.
In the 19th century, Russia in particular began to systematically exploit the extensive platinum deposits in the Urals. This ensured that the platinum price was perceived historically for the first time. However, because there was little demand for Russian platinum on the world market, Russian rubles were minted in platinum and the ratio between the price of platinum per gram and the price of gold was set by the government at 3:1. So, historically, the price of platinum had a rough start.
Industrialization caused the platinum price to rise sharply
In the wake of industrialization, the price of platinum rose sharply toward the end of the 19th century and the beginning of the 20th century, as the metal was in demand in industry, and the price of platinum historically had its first boom period around the turn of the century; by 1900, platinum was about as expensive as gold. The price of platinum per gram continued to rise until the outbreak of World War I, so that platinum was twice as expensive as gold during the Empire.
by 1924, it had reached six times the price of gold. This was followed by a countermovement due to the economic turmoil, which culminated in the Great Depression, and the platinum price was historically low. However, the platinum price recovered in the thirties and consolidated its status as a more valuable precious metal in direct comparison with gold. Platinum price forecasts also brightened considerably at that time.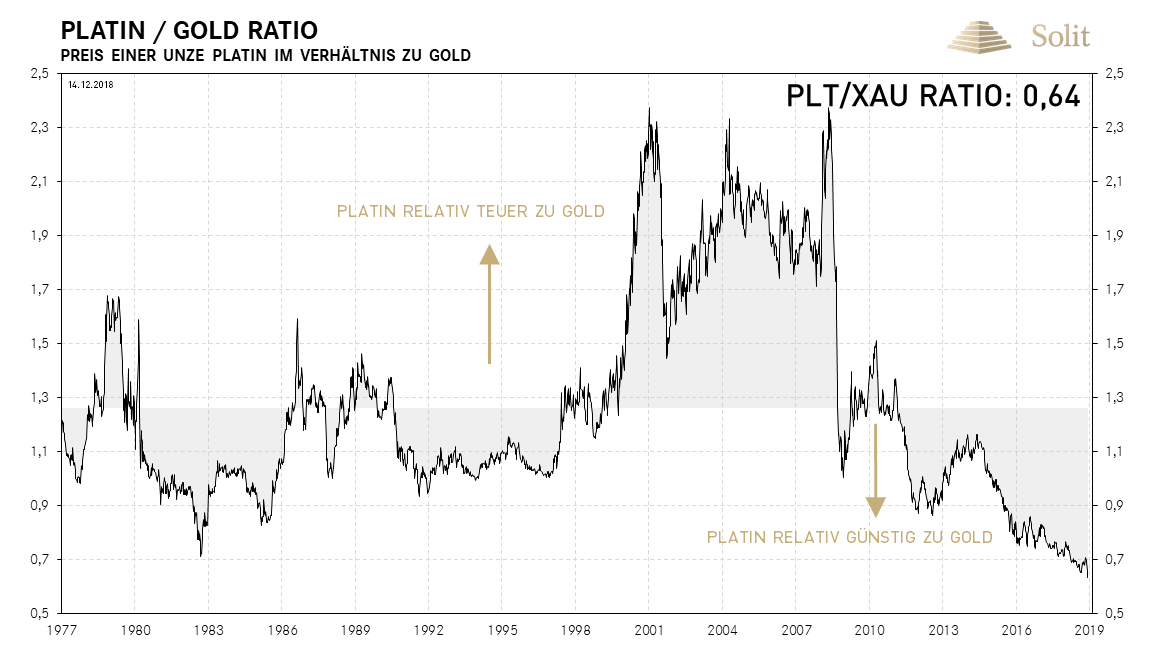 At the latest since the beginning of the sixties, the platinum price per gram increased continuously, in the seventies it literally exploded by eleven times. A peak was reached in 1980, when the platinum price was around 1000 US dollars, while gold was trading at around 600 US dollars. But within just two years there was a massive crash, and in 1982 the platinum price was only quoted around the 250 US dollar mark. This was followed in the eighties and nineties by a quiet price development between 300 and 600 US dollars.
History of the platinum price from 2001
Year
USD 
EUR
AUD 
CAD 
CNY 
INR 
JPY 
CHF 
GBP 
MEDIUM 
2001 

-20,2%

 

-15,6% 

-13,5% 

-15,4% 

-20,2% 

-17,6% 

-8,2% 

-18,2% 

-18,1% 

-16,3% 
2002 

22,6% 

4,0% 

11,4% 

21,1% 

22,6% 

21,7% 

10,6% 

1,5% 

11,1% 

14,1% 
2003 

35,5% 

12,8% 

1,2% 

11,8% 

35,5% 

28,7% 

22,3% 

21,3% 

21,7% 

21,2% 
2004 

7,3% 

-0,2% 

3,2% 

-0,6% 

7,3% 

2,8% 

2,8% 

-1,3% 

-0,2% 

2,3% 
2005 

12,7% 

28,8% 

20,0% 

8,9% 

9,8% 

16,4% 

20,0% 

20,0% 

25,5% 

20,1% 
2006 

17,4% 

5,3% 

9,2% 

17,7% 

13,6% 

14,7% 

18,7% 

8,8% 

3,2% 

12,0% 
2007 

33,6% 

20,7% 

20,4% 

14,4% 

25,0% 

19,6% 

25,3% 

24,1% 

31,8% 

23,9% 
2008 

-38,3% 

-35,5% 

-23,4% 

-24,3% 

-42,3% 

-24,5% 

-49,9% 

-43,1% 

-16,3% 

-33,1% 
2009 

56,2% 

52,4% 

22,7% 

34,5% 

56,1% 

51,4% 

60,2% 

55,0% 

41,5% 

47,8% 
2010 

20,5% 

28,9% 

5,8% 

14,2% 

16,6% 

16,0% 

5,2% 

8,8% 

24,8% 

15,6% 
2011 

-20,9% 

-18,2% 

-20,7% 

-19,0% 

-24,5% 

-6,4% 

-25,0% 

-20,5% 

-20,4% 

-19,5% 
2012 

9,7% 

7,8% 

7,7% 

6,7% 

8,5% 

13,8% 

23,7% 

7,0% 

4,9% 

10,0% 
2013 

-10,7% 

-14,3% 

4,2% 

-4,6% 

-13,2% 

0,4% 

8,4% 

-12,9% 

-12,5% 

-6,1% 
2014 

-12,0% 

0,0% 

-4,0% 

-3,7% 

-9,8% 

-10,3% 

0,0% 

-2,0% 

-6,5% 

-5,4% 
2015 

-26,3% 

-17,9% 

-17,3% 

-12,1% 

-22,8% 

-22,6% 

-25,8% 

-25,7% 

-22,1% 

-21,4% 
2016 

1,1% 

4,4% 

1,9% 

-2,0% 

8,1% 

3,8% 

-1,9% 

2,8% 

20,8% 

4,3% 
2017 

3,1% 

-9,6% 

-4,6% 

-3,4% 

-3,4% 

-3,1% 

-0,6% 

-1,3% 

-5,8% 

-3,2% 
2018 

-14,0% 

-9,3% 

-7,2% 

-8,7% 

-9,1% 

-3,6% 

-13,4% 

-12,4% 

-8,2% 

-9,5% 
Yield p.a. 
1,5% 
0,5% 
0,0% 
0,9% 
0,5% 
4,0% 
1,5% 

-1,2%

 
2,5% 
1,4% 

After the turn of the millennium, the price of platinum per gram moved steadily upwards with stronger fluctuations, and in 2004 was able to pass the 600 euro mark. in 2006, a platinum price of 800 euros was already reached and in 2008, the platinum price in euros literally exploded. In February 2008, a record value for the platinum price of 1415 euros per fine ounce was reached - never before had the platinum price in euros been so high. But the platinum price could not hold the level around 1400 euros and, as so often with platinum, a rapid crash of the platinum price in euros followed. Within the next twelve months, the platinum price again collapsed into the range around 600 euros per fine ounce by the end of 2008.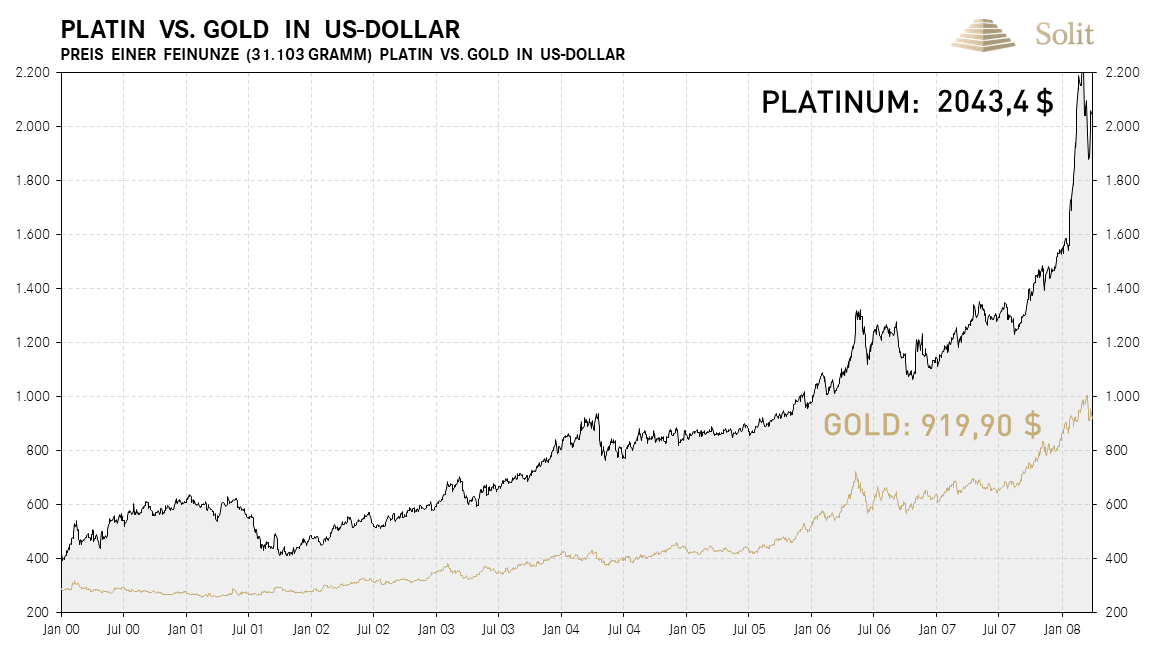 Performance of the platinum price over the last 10 years
Between 2009 and 2019, the platinum price per gram has taken a roller coaster ride the likes of which has never been seen with other precious metals such as gold or silver. The platinum price has been able to recover since 2009, the platinum price in euros traded around the 1200 euro per ounce mark between 2010 and 2013, and platinum price forecasts have been adjusted upward several times.
Since 2013, the trend in the platinum price in euros has been continuously downward. In a textbook downtrend channel, the platinum price broke through one support after another and ripped through the marks of 1200 euros, 1000 euros and 800 euros. In the fall of 2018, a low point was reached with a platinum price of around 680 euros. The platinum price forecast had to be repeatedly corrected downward since then. Since then, a countermovement in the platinum price in euros can be observed and the platinum price forecast is much friendlier again.
Factors for the development of the platinum price per gram and ounce
Platinum is conspicuous by its strong volatility, because supply and demand have been subject to massive fluctuations over the past decades. This is not only due to the fact that the platinum price is reported in U.S. dollars and thus the platinum price is also subject to fluctuations in the U.S. currency.
Its use in industry ensures that a recession has a full impact on the platinum price in euros, while an economic boom can lead to an explosion in the platinum price. About half of the platinum available each year is used in the automotive industry in the production of catalytic converters. An event such as the diesel scandal has a negative impact on the price of platinum in euros.
To make matters worse, platinum production is concentrated in a handful of countries, mainly South Africa, Russia and Canada. Especially in South Africa, there have been repeated political unrest and accidents in the past, which had a direct impact on the platinum price. Overall, the platinum market is much smaller than the gold market, so that the platinum price can be manipulated much more easily by larger trading movements as well as by interventions via futures trading.
Platinum Price Forecasts
After many years of most market observers seeing black for the platinum price, most platinum price forecasts have now brightened considerably. In the annual forecasting contest of the "London Bullion Market Association", an average price of 850 dollars was determined for platinum. Some analysts even see a platinum price of up to 1050 dollars in the short term as realistic.
Platinum price in form of the platinum-palladium-ratio
palladium-ratio5d109b0682122.png" alt="" width="1155" height="650">
Use of platinum in the future could positively influence the platinum price
For the future, many analysts expect a much stronger demand for platinum and a rising platinum price, because then the production cuts on the world market will become noticeable. In the future, platinum is likely to be used primarily for the production of clean catalytic converters, because developing countries such as India and China want to significantly tighten their emission regulations for diesel cars. In addition, the yield from recycling platinum is expected to decrease significantly in the coming years. As a result, a sustained countermovement is expected for the platinum price in euros.
Advantages and disadvantages of an investment in platinum
Platinum was for a long time the secret number 1 of palladium, however, its big brother this rank. In 2019, however, there was a temporary interruption of the palladium boom and many investors turned to platinum instead. The wider fluctuation range generally results in higher return opportunities for platinum investors.
Those who want to achieve a particularly good platinum price per gram should fall back on the common investment products such as platinum bars from 100 g or the classic ounce coins such as the platinum Maple Leaf, the platinum Kangaroo or the platinum Vienna Philharmonic. Many mints have added an investment coin in platinum to their product range in recent years and can offer investors a particularly good platinum price per gram.
From the point of view of many investors, the platinum price in euros in Germany is artificially made more expensive by the full value-added tax, which is generally due on all platinum bars. For this reason, many investors in Germany have switched to trading platinum through a so-called duty-free warehouse. As long as the goods are left in this warehouse, the VAT does not apply. With the help of a bonded warehouse, investors can secure an attractive platinum price in euros.
More information about platinum price
Current prices for platinum coins 
Current prices for platinum bars