Safety FAQ
Content overview
What does GoldSilberShop.de do to secure your data?
SOLIT Management GmbH is a company based in Germany and is subject to strict German data protection guidelines. You can find our privacy policy here - as far as the formalities.
We, all employees at GoldSilberShop.de, are also "online shoppers" just like you, who attach great importance to confidentiality and data protection. For this reason we handle your data as carefully as we would like to handle ours.
Our online store is of course secured by SSL technology, so that your transmitted data is encrypted and thus transferred to us in a secure way.
In addition, we have the security of our website externally audited by "SIWECOS": Only companies that have the security of their websites checked regularly can use the security seal listed above. This confirms that our website is not infected by malware, for example.
The "SIWECOS" project is funded by the German Federal Ministry for Economic Affairs and Energy as part of the "IT Security in Business" task force.
How does GoldSilberShop.de ensure the quality and authenticity of the precious metals it offers?
Trust is good - control is better. We act according to this maxim with every receipt of goods:
When we receive goods, we check the bars and coins for quality and authenticity. Which procedure is used depends on the article, as certain testing methods are only applicable from / up to certain weights / dimensions or other properties.
In any case, the goods are weighed with a fine weight scale. Test templates or calipers are used to measure the dimensions. These tests are supplemented with ultrasonic, electrical conductivity measurements, X-ray fluorescence tests and / or the use of a magnetic balance to determine the differential weight.
We do not use pure surface tests that can damage the article (e.g. acid tests). These do not provide information about the extent to which the material is homogeneous, because they are not sufficiently reliable for us:
In our guide to testing the authenticity of gold and silver, we present different testing methods. In the video, we show almost perfect counterfeits and how to unmask them anyway. Counterfeits like the ones shown would not be detected in an acid test.
How is your order packaged?
On each product page, directly under the "Properties" tab, you can find out how individual items are packaged: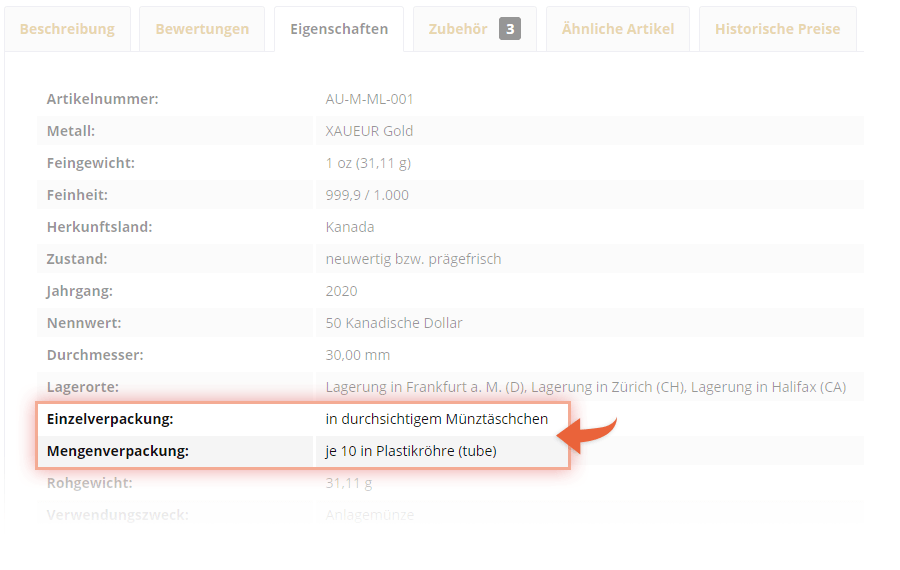 Your order is removed from the safe and carefully packed by our long-standing experienced warehouse staff in a 4-eyes principle under camera recording. We always make sure that the packaging is chosen in such a way that no conclusions can be drawn about the contents of the package. Neither by touch, nor by shaking or examination. As a rule, the articles are packed in so-called safebags. These are plastic bags that can only be sealed once and are therefore tamper-proof, with a unique serial number. The safebags come in a shipping carton.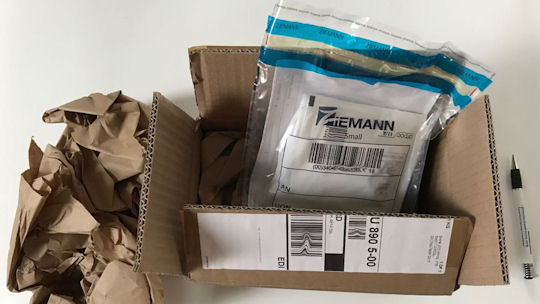 We only use neutral shipping boxes and a different sender address, so that discretion is given with regard to origin, value and type of shipment. Also the transport service provider has no knowledge about the content of the shipment. 
Only in the case of high values of goods (usually from 40,000 euros) we deliver via cash-in-transit. In this case, we will arrange a handover date with you in advance. 
How safe is the shipment?
In a nutshell: Very safe for you! 
See also "How is your order packed?": All orders are carefully, securely and stably packed in a high-security area under high-resolution cameras by experienced value logistics experts using the 4-eyes principle, so that transport damage is extremely rare. Through quality assurance and video documentation, we ensure that your shipment leaves our premises in perfect condition. 
The law in Germany stipulates that the shipper, i.e. we, bear the shipping risk.  In addition to the aforementioned neutral packaging of your shipment, which does not allow any conclusions to be drawn about the valuable contents, we take further security measures: For example, every shipment is insured by us with a so-called valor transport insurance against the risk of loss at the replacement value. Thanks to shipment tracking, both you and we can follow the status of the shipment at any time. 
Higher value orders are only handed over against signature upon delivery. From approximately 50,000 euros value of goods, the delivery is made via cash-in-transit. In this case, we will arrange a handover date with you in advance.
Who is liable if your shipment is lost?
Basically, the risk of an order being lost during shipping is extremely low due to the security measures described above. Even if this very unlikely case should occur, you are well protected: First of all, the law stipulates that basically the online store, i.e. us, is responsible for the loss or provides a replacement. Therefore, we additionally protect each shipment with a separate value transport insurance, which is specially designed for the shipping risk of precious metals and replaces corresponding damages.
What additional security does Trusted Shops Buyer Protection provide?

Online stores that bear the Trusted Shops guarantee seal shown opposite are analyzed for reliability on the basis of more than 100 individual criteria: for example, data protection and security, price transparency and the general terms and conditions are checked for consumer friendliness.
In addition, Trusted Shops offers you the possibility to protect your order against risks of failure, such as non-delivery, with the Buyer Protection. In principle, we are of course liable for shipments lost during shipping, for example. However, should we fail as a claimant, Trusted Shops Buyer Protection offers you additional protection of up to 20,000 euros per order. You can also protect higher amounts by dividing them into several orders of a maximum of 20,000 euros.
What does the Trusted Shops buyer protection cost?
The best thing about Trusted Shops Buyer Protection: For only 9.90 euros a year, you can secure your orders not only at GoldSilberShop.de, but also at several thousand other online stores that are also certified.
How can you additionally secure your order with Trusted Shops Buyer Protection?
You have the possibility to order the buyer protection directly at Trusted Shops in advance of your order or by clicking on the corresponding note on the order confirmation page after you have ordered your precious metals from us: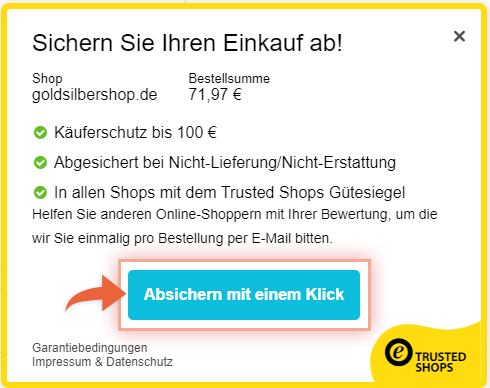 Has your question not been answered?
We are also happy to answer your individual question. Please contact us for this purpose:
Contact GoldSilberShop.de        

Weitere Informationen und Ihre nächsten Schritte: